THE OWNERS AND FOUNDING OF AMERICAN AG SYSTEMS
American Ag Systems is proud to be a Veteran owned and operated business. It was founded in 2014 by two brothers-in-law, Travis Tatum and Andrew Burleigh, to offer customers honest and reliable service from a team who knows agricultural equipment intimately and can deliver custom solutions.
Travis, a former Army Infantry Specialist who served for three years, including a Gulf War deployment, went to school for CAD/CAM before joining West Coast Companies as a draftsman. Drawing on his experience in construction, the transition to agriculture equipment was easy and exciting for him. Travis is an expert in processing equipment and can draw up anything a customer needs, from single pieces of equipment to complete processing lines, an invaluable skill for American Ag Systems.
Andrew served for five years as a Marine Corps Crash Fire Rescue Sergeant and completed two Iraq deployments before he started his career in agriculture at West Coast Companies. During his college summers, Andrew assisted West Coast Companies with processing equipment installations, general office jobs, and financial roles. Once he graduated, Andrew joined full-time as the General Manager to assist with sales and business operations. Because of his extensive knowledge working on processing lines, he can quickly troubleshoot with customers and help improve their operations.
While working at West Coast Companies, their father-in-law's business, Travis and Andrew recognized the need for customer support after new equipment installations. Their knowledge and experience in agricultural processing equipment made them the perfect candidates to fill this market gap. In 2014, American Ag Systems began offering the installation of hazelnut driers and preventative service to customers and quickly expanded to completing full-plant builds.
Travis and Andrew share a strong work ethic and family values as brother' s-in-law, veterans, friends, and colleagues. When not busy running American Ag Systems, you'll find Travis and his kids practicing Taekwondo and Andrew splitting his time between house projects and chasing after his daughters.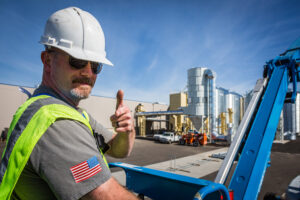 "The goal of American Ag Systems has always been about making sure the customer is getting honest and reliable service, from the team who know the equipment intimately."
– Travis Tatum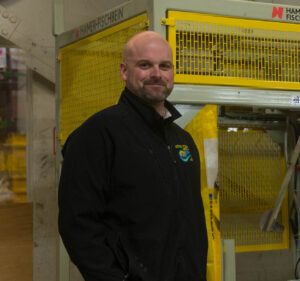 "When we entered the market we felt as though we were providing 'quality assurance' to West Coast Companies. Travis and I know the equipment they sell and therefore knew our team would be servicing and installing them in the correct manner."
– Andrew Burleigh