FARM CONSTRUCTION, CUSTOM FABRICATION & MILLWRIGHT SERVICES
Whether you are modifying your existing processing line, needing construction services on your farm, looking for experts in custom fabrication, or millwright services ahead of harvest, American Ag Systems can help.
Our design, fabrication, installation, and millwright teams provide services for the entire lifecycle of your agriculture or industrial facility, including site surveying and facility planning, construction, repair, and maintenance. In addition, our team can ensure your industrial, farming, and agriculture equipment and processing lines are running at peak performance.
Our millwright and installation teams are experts in popular equipment from brands including Carter Day, Columbia/Okura, Donaldson, Hamer-Fischbein, Oliver Manufacturing, Sukup, Universal Industries, Q-SAGE, and more.
We work with grain, seed, nut, and dairy farmers and large- and small-scale food producers, including breweries, bakeries, dairies, and animal feed producers. Additionally, we support industrial product manufacturers with their equipment for fertilizers, chemicals, and concrete or cement manufacturing.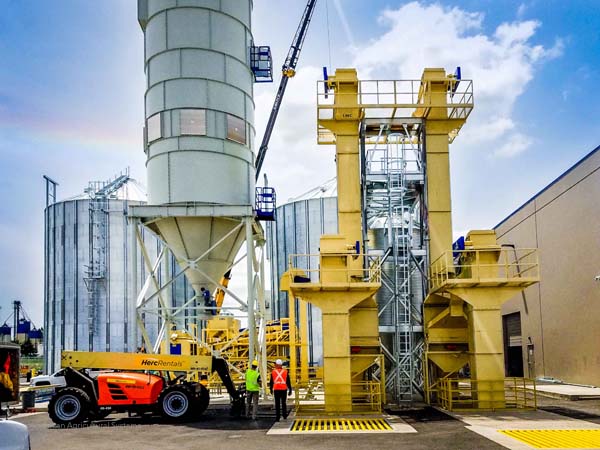 American Ag Systems serves the Pacific Northwest, including Washington, Oregon, and Idaho, with offices in Salem, Oregon, and Boise, Idaho.
DESIGN & RENOVATIONS
Processing Plant Design
Site Preparation
Concrete Slabs
Building Erection
Custom Metal Fabrication
Crane and Rigging Services
Equipment Stands
Spouting and Airline
Handrails, Catwalks, & Decking
PROCESSING EQUIPMENT INSTALLATION
Dust Control
Conveying
Packaging
Surge Bins and Feed Hoppers
Seed Cleaning
Feed Mixing/Handling
Fertilizer Mixing/Handling
Density Separators
Overlapping Bucket Elevators
Box/Tote Dumpers
Malsby/Airleg Split Bean Separators
Optical Sorting Installation
Grain Storage
Nut Processing Equipment
Nut Storage
Length Graders
Robotic Palletizing
Vibratory
Seed Treaters